Nest of You
---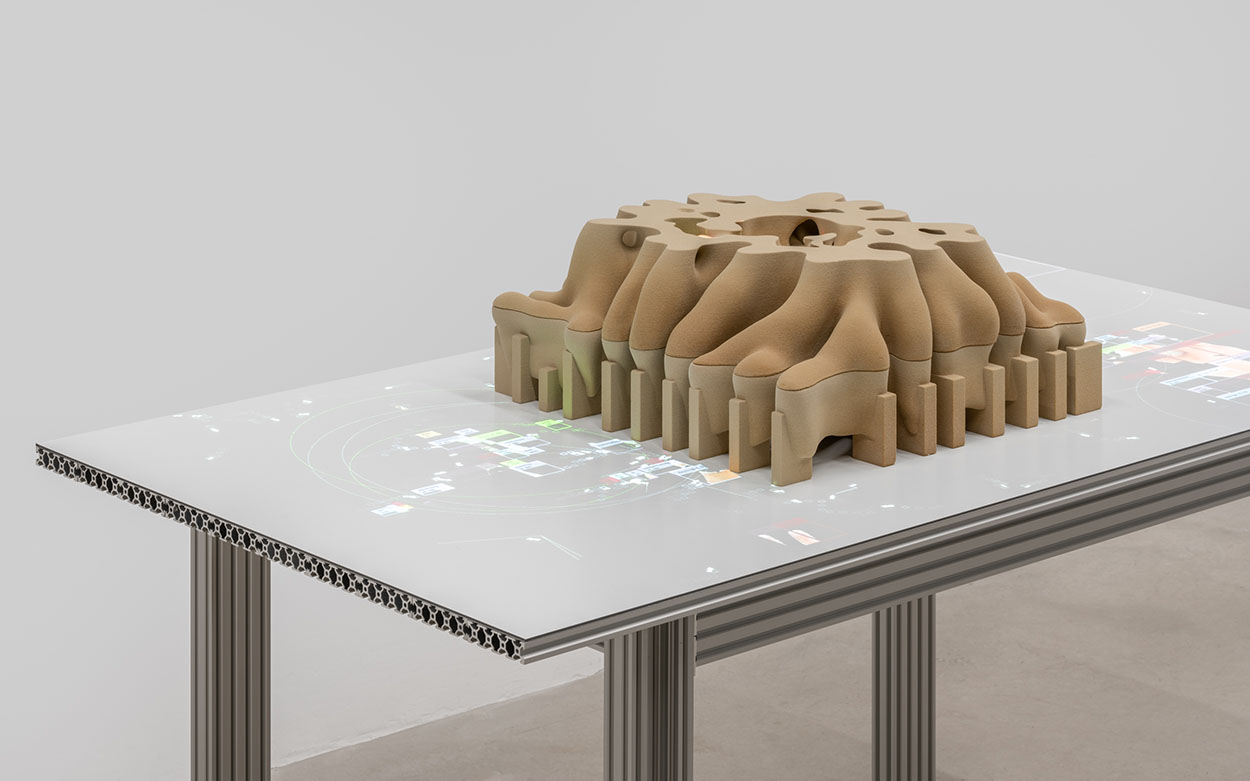 Year: 2022
Technique & Material: 3D printed resin bound sand, aluminium, projection, infrared camera (various dimensions)
Technical collaboration with Manyone: Justus Hofer (Creative Lead), Mikkel Christiansen and Nikolaj Stausbøl (Creative Development), Kristel Laurits and Horațiu Roman (Concept Design)
Installation photos by: David Stjernholm
We are in complex co-dependent relationships, and data is the glue that binds us. Our homes, belongings, and what we leave behind are no longer bound to the tangible world: we are under surveillance and our digital personas and virtual lives leave vestiges of ourselves. Without forethought, we entrust these breadcrumbs to a handful of tech giants.

Nest of You is an interactive installation that deploys real-time computer vision and data harvesting to build a cybernest for a digital insectoid that thrives upon information. A section of the nest, akin to a formicarium, is presented on a precise surface. Visitors leave traces in the shape of movement, body parts, or objects, which are in turn translated into virtual elements. The digital insectoids collect this data by dismantling them, encrypting them, and then carrying them to the cybernest – a treasury of imprints.

The work draws parallels between the power of technology giants and giant queen ants in the context society's routine-based flows, which feed the giants. When a termite queen and king die, the colony continues; a new royal couple emerges. If a queen in an ant colony dies, the colony perishes with it.
Before dying, wasp queens produce a new queen, which hibernates over the winter, leaving the colony to eventually die by way of disorientation. The biosphere has many examples of ruthless dependencies, posing the question: how would we behave if our tech giants suddenly ceased to exist?